What is your understanding regarding nutrition pregnancy? It is a kind of lifestyle that women should follow during their pregnancy. It is the time women require the best of nutrition, and it is not only for the child but also the mother itself. A mother's body requires being strong and suitable for childbirth. So, to bring a positive lifestyle change, this article is going to give you five recipes that are loaded with nutrition.
Top five nutrition pregnancy recipes
Frittata with chard
While talking about nutrition pregnancy, you cannot overlook the need for protein. The quickest and easiest source of protein is an egg. Apart from protein, it contains vitamins and minerals. So, having frittata will help you to get the nutrition and satiating your taste buds at the same time. You can add lots of vegetables, red onions, Swiss chard, and bacon to make the dish nutritious as well as tasty.
Ingredients
Chopped turkey bacon
8 large eggs
Crumbled pasteurized feta cheese 1 cup
Swiss chard
1 Tablespoon olive oil
Minced garlic
Salt and pepper
¾ cup of milk
Thinly sliced red onion
You need to take a ceramic dish and grease it with olive oil and insert into the oven and set it for preheating to 200ºC. You need to cook the bacon on a frying pan until it turns crispy. Then you need to transfer the bacon into a separate dish and add more olive oil and then add the sliced red onions and garlic. You need to sauté them until they turn light brown. In the meantime, you need to crack the eggs in a bowl and whisk them properly. Then you need to add cheese, and milk followed by salt, pepper. You need to transfer the batter to the ceramic tray and on the frying pan, you need to add chard. You need to let it sauté and then you need to spread it over the egg batter and add the fried bacon as well. Then you need to microwave the whole thing and serve hot.
Ratatouille with baked eggs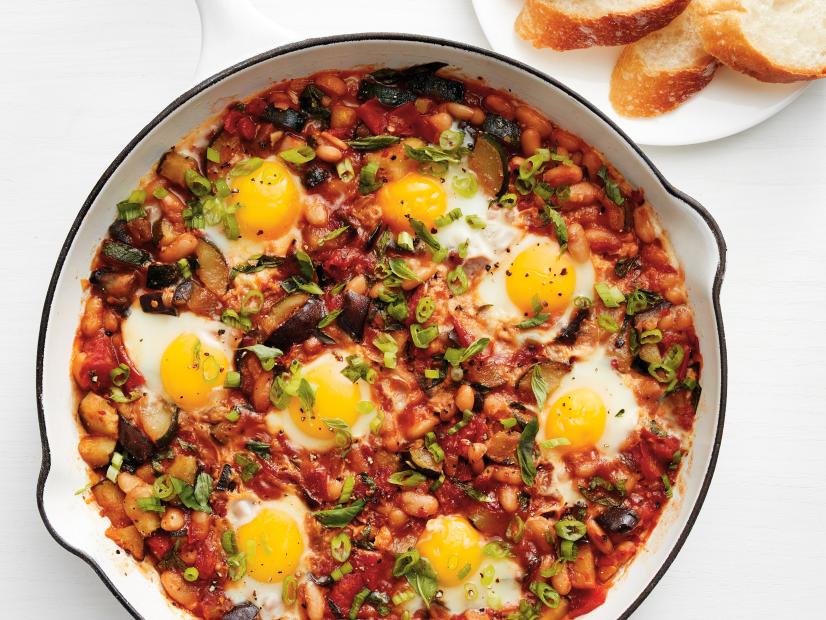 This is a combination of vegetables and eggs. It is an excellent dish that looks bright and vibrant along it also yummy to taste. So, let's check out the recipe for it.
Small eggplant
Diced yellow onion
Diced zucchini
4 large eggs
Chopped Italian parsley
Diced onion
1 small red bell pepper
Minced garlic
Salt and pepper
Chopped fresh basil
To start with cooking you need to preheat the oven to 200ºC. After that, you need to place the eggplant, zucchini, onion, diced bell pepper in the ceramic dish. Then you need to drizzle the vegetables with olive oil. Then you need to add salt and pepper as per your taste. You need to add tomato puree to the dish and also add sliced tomato to it. Then you need to put the dish in the oven for 35 to 40 minutes. After that, you need to remove the dish and the eggs on it. You need to place the eggs in sunny side up style. Then you need to bake the dish for 8 more minutes. Lastly, you need to sprinkle some parsley over it and the dish is ready to serve and it is one of the tasty nutrition pregnancy recipes.
Diabetic Pregnancy Diet: All You Need To Know About
Pan-seared salmon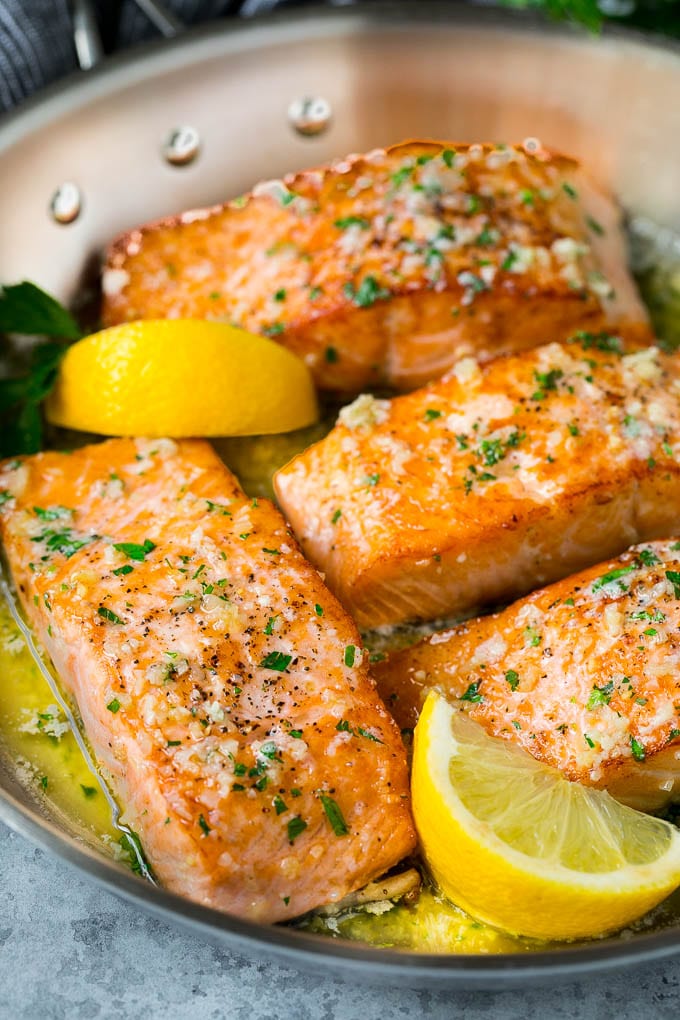 While talking about nutrition pregnancy recipes you cannot ignore the need for Omega 3 Fatty Acid. And the best source of this is fish, so as a mother-to-be need to incorporate salmon in your diet.
Ingredients
4 salmon fillets
French green lentils
2 tablespoons olive oil
Chicken stock
1 large carrot
1 tablespoon tomato paste
Fresh thyme
Salt and pepper
Fresh chives and dried bay leaf
1 tablespoon red wine vinegar
To start with you need to boil the lentil with water on a stove. Once it is moderately boiled, you need to take a frying pan and add oil, garlic and sauté it. Then you need to add the chicken stock and the drained lentil, carrot, tomato paste, celery, herbs, and leave it for 20 minutes to cook. You need to stir them in the middle. After that, you need to take a baking dish and place the fish fillets drizzled with olive oil and grill them. After that, you need to place the fillets on the place and pour the gravy on it and have it hot.
Kale salad
Green salad is always considered a nutrition pregnancy diet. To make the salad you need curly kale, lightly toasted sliced almonds, chopped dried figs, balsamic vinegar, Salt and pepper, Parmesan cheese, extra-virgin olive oil, dried cranberries, and 1 tablespoon minced shallot. All you need to do is to mix all the ingredients and the salad dish is ready to eat.
Quinoa with shrimp
The pregnant mother should opt for the potent form of protein and that will be supplied from Quinoa. You can add anything with it so you can choose shrimp with it. To make a dish you will require cilantro leaves, basil leaves, green onions, red cherry tomatoes, extra-virgin olive oil, garlic, salt and pepper, and mint leaves.
To start with you need to cook the quinoa first. After that, you need to combine all the leafy vegetables. You need to marinate the shrimp with olive oil, salt, pepper, and herbs. Then you need to sauté the shrimp a little and then add the quinoa in the same pan. You need to take a serving bowl you need to pour the combined ingredients. Then you need to spread the leafy vegetables on it and add mashed avocado to it.